Archaeological dig could solve Somerset canal mystery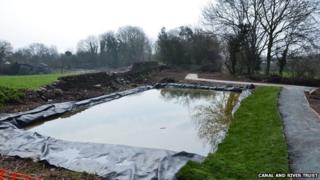 Archaeologists say they hope a dig on an abandoned canal in Somerset will help solve a 150 year-old mystery.
An excavation is to take place on the Chard Canal, known as the Chard Arm, which joined the Bridgwater and Taunton Canal at Creech St Michael.
The "lost" waterway went out of use in 1869 and the exact location of the lock at the canal junction is not known.
The dig led by the Canal and River Trust, at a new community nature reserve, is due to begin on Thursday.
Despite boasting one lock, four aqueducts, three tunnels and four inclined planes, the Chard Arm was never commercially viable, and shut in 1869 after just 26 years of use.
Some of its structures remain, including the lock keeper's cottage at Creech St Michael, which was turned into a World War Two pillbox and is now being transformed into a bat roost.
The trust's heritage adviser, David Viner, said: "The Chard Arm is a bit of a mystery.
"Compared to other canals in the country it had a very short operational life, but it was one of the last canals to be built and one of the most technologically advanced.
"It's still a fascinating industrial achievement and key to understanding the history of the area. It's a shame we don't have more information about it.
"We're hoping that by finding out exactly where the lock was in relation to the cottage and the existing canal, we can sketch out what the area would have looked like 150 years ago.
"We'd also love for anyone with any local connection to the waterway to get in touch."