Radstock road system upgrade nears end of work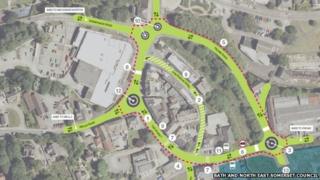 A major reworking of the road system around Radstock in Somerset is almost complete after three years of work.
The aim of the £1m scheme is to ease congestion, better define the town centre and assist in the building of hundreds of new homes.
Key changes include improving the link between the town centre and Frome Road, two new roundabouts, making The Street two-way and adding new bus stops.
Motorists are being urged to take extra care because of new road markings.