Bishop's Palace in Wells launches new 'swan cam'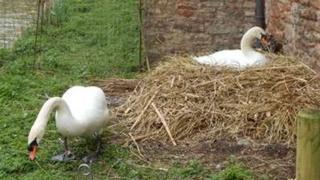 A 24-hour infra-red "swan cam" has been launched at the Bishop's Palace in Wells.
A palace spokesman said the "state-of-the-art" equipment by the moat had been installed just in time to catch the female swan building a new nest.
The infra-red capabilities allow night-time viewing.
Last year the cygnets were born at the beginning of May but the recent warm spell "could see an earlier appearance this year", the spokesman added.
"In March, the final two cygnets, born in 2014, left the palace.
"The female swan, Wynn, has spent the last few weeks building a lovely, and very large, nest by the moat."
The medieval Bishop's Palace is the 800-year-old home of the bishops of Bath and Wells.
It is also home to the wells and ancient springs that give the city of Wells its name.
The world famous mute swans ring a bell alongside the gatehouse when they want their food.