Somerset webcam owl pair lay first egg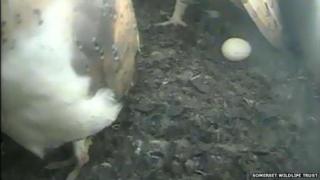 Two barn owls in a nesting box that attracted worldwide attention last year when a live camera was installed have laid their first egg.
But Somerset Wildlife Trust (SWT) said it may not be the same pair, nicknamed Boris and Brenda by webcam viewers, because adult birds are not ringed.
Last year the owl webcam got million of hits from across the world as the eggs hatched over three weeks in the spring.
Eve Tigwell, from SWT, said the new egg being laid was "fantastic news".
She said: "After a very successful year last year raising six owlets, the female of the pair has now started to lay.
"We hope there will be many more eggs and many owlets flying."
Last March and April, thousands of people followed Brenda and Boris and their brood on the live camera. Six of the owlets fledged successfully but the youngest, nicknamed Burrowbridge, did not make it.
The box is just one of 335 installed across the county by Somerset Wildlife Trust and the Hawk and Owl Trust in a bid to fight the decline in barn owl numbers.