Chemical crisis response tested in Weston-super-Mare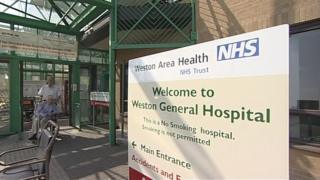 A major chemical incident has been staged at a hospital in Somerset to test how staff and the fire service deal with an emergency.
Avon Fire and Rescue and Weston General Hospital staff treated a number of "live casualties", exposed to an unknown substance in Weston-super-Mare.
The exercise, with six fire engines and two de-contamination tents, was one of the largest the hospital has staged.
The hospital said there was no disruption to patients.
Karen Croker, from Weston Area Health NHS Trust, said the exercise put the hospital's emergency department through the "extreme pressures" of a major crisis.
"While nobody wants a major incident, it's essential hospital and emergency services are able to plan and prepare for a high level response if the worst was to happen," she said.
Fire and clinical staff were dressed in protective decontamination clothing and an incident control room will be set up in the hospital.