Frome and Somerton candidates debate pensioners' benefits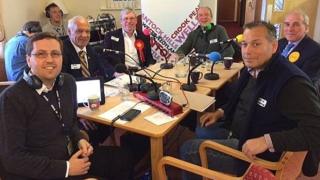 Wealthier pensioners should be allowed to keep all benefits, general election candidates in Frome and Somerton say.
Conservative David Warburton said "they deserve it" and Theo Simon, Green, said a state pension "should be universal".
Alan Dimmick, UKIP, said the wealthy should "not be penalised" and Labour's David Oakensen said he supports universal benefits despite party lines.
Only Lib-Dem David Rendel disagreed, calling for allowance reductions for those on a higher rate of income.
The five candidates were speaking on a BBC Somerset election debate programme.
Ian Angell, who did not take part in the debate, is standing as an independent candidate in the constituency.
'Tax total income'
Mr Oakensen said, despite his party's position that pension benefits should be "for all but the richest 5%", he wanted to "pay it to everyone".
"I think everybody should receive them and then we tax them according to their total income," he said.
But Mr Rendel said there was no point paying a winter fuel allowance to "people who have got masses of money" and who can "well afford their own fuel".
"It's better to use that money for people who are perhaps less well off," he said.
However, Mr Warburton said there were "many other ways" of addressing inequality and "this isn't one of them".
"Pensioners who have worked all their lives, they deserve the benefits and should get what they're entitled to," he said.
Mr Simon agreed benefits "should be universal" but said he was opposed to "means testing" as it was an "indignity for people, who have worked all their lives".
Mr Dimmick said he wanted to introduce a "flexible pension" to allow people to retire with "reduced benefits" at the "old pension age".
---
The candidates for the constituency are:
Ian Angell, Independent
Alan Dimmick, UKIP
David Oakensen, Labour
David Rendel, Liberal Democrat
Theo Simon, Green
David Warburton, Conservative
---