Butlins Minehead Southport Weekender 'drug death' probed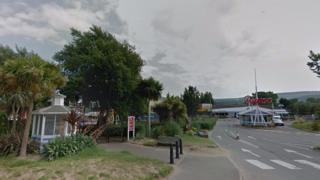 A woman has died after apparently taking a "white substance" at a music event held at a Butlins holiday camp.
The 47-year-old became "seriously ill" near the firm's Minehead resort on Friday, and collapsed outside Musgrove Park Hospital in Taunton, police said.
Avon and Somerset Police believe she fell ill after taking the unidentified substance and died on Sunday morning.
The camp was hosting the Southport Weekender, which showcases live dance and soul music.
"We can confirm that a 47-year-old woman died in hospital after it is believed she took a substance whilst at an event in Butlins, Minehead," a police spokesman said.
A Butlins spokesman said the woman was not staying at the camp.
She was seen on CCTV entering the resort with a group of about 20 people at about 23:00 BST and leaving at 03.45, but did not seem to be in any difficulties, he said.
A medical team was on standby during the event and there were no other major issues, he added.
Some 5,400 people attended the festival over the weekend.
Avon and Somerset Police have said no arrests have been made and the investigation is ongoing.