Westlands Leisure Complex in Yeovil to close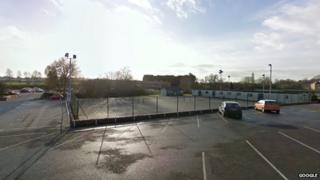 Westlands Leisure Complex in Yeovil is set to close due to increasing running costs and a failure to make profits, its owners have said.
Helicopter firm AgustaWestland said it had tried make the venue self-sufficient for the past two years.
Yeovil town councillor Tony Lock said: "There are numerous sports clubs who use the facility and they will struggle to find alternative venues."
The firm says it will stay open until September and honour all booked events.
'Healthy lifestyles'
A spokesman for AgustaWestland said it had appointed a partner to help make the venue into "a key entertainment and sports venue".
He added: "Despite the best efforts of all involved and having together made improvements in several areas, it has become clear AgustaWestland would have to continue to increase the subsidy it provides to keep the facility open."
He added the centre also needed major investments to modernise but faced declining membership.
Westlands Leisure Complex made "significant financial losses" for the 2014-2015 financial year, the firm said.
Mr Lock, who is also a district councillor, has called for Yeovil Town Council to meet the owners over its future.
He added: "I would like to see all efforts put into retaining the complex as a facility for the people of Yeovil and surrounding area.
"We're all encouraging healthy lifestyles with sport and recreation and I'm sure the facility itself will be sadly missed by a lot of organisations."
The issue will be debated at the town council's annual general meeting on Tuesday.