UK Hydrographic Office considering move from Taunton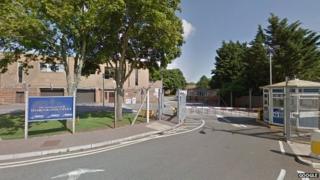 The UK Hydrographic Office in Taunton is looking for new office space as its current home is "ageing and expensive", the Ministry of Defence has said.
The centre provides all the charts, maps and data such as tide times for the Royal Navy and merchant shipping.
Lobbying has begun by the county and district councils and local MP to keep the centre in the Taunton area.
Possible locations could be Exeter Science Park in Devon or a planned new business park near the M5 in Taunton.
'Complete clarity'
About 950 staff are employed at the office.
A spokesman for the MoD said the office was "considering options to replace the current aging and expensive estate with a new one and is in the early stages of producing a business case and gaining approval for a new office.
"An options study has begun to explore our requirements and identify the best possible location to site the new build."
Options include redeveloping the existing site, looking at places in the Taunton area and any available government sites.
The process will involve considering locations that fall within the "local travel to work area".
The BBC understands this could be anywhere within an hour's drive of Taunton such as Bristol and Exeter.
Somerset County Council cabinet member David Hall said: "It is important that in any of these negotiations that we stress the advantages we have locally but also that we make all the local options available so there's complete clarity about where they could go and why it would be advantageous to stay here."
The Conservative MP for Taunton Deane, Rebecca Pow, has said she will continue to work with the Hydrographic Office and the council to ensure it stays in the constituency.