Musgrove Park Hospital worker moved after attack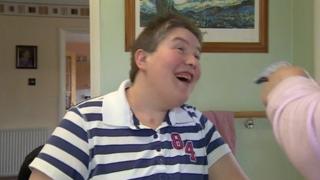 A man who attacked his girlfriend, leaving her paralysed and brain-damaged, has been moved from the hospital where she is treated after he was found to be working there.
Stephen Clark was jailed for four years for the attack on Lisa Taylor in 2000.
When Ms Taylor's mother visited her at Taunton's Musgrove Park Hospital, she found Clark working there.
The hospital has apologised for any distress caused, and confirmed Clark had been moved to another facility.
The action follows a campaign by Ms Taylor's family to have him removed.
'Sweep the streets'
Clarke repeatedly kicked Ms Taylor in the head in the attack.
The hospital confirmed in a letter to her mother Nancy that Clark had been transferred to a "non care-giving role" at another site.
It also said it was aware of Clark's criminal record when it employed him, but that it had to "respect a person's right to rehabilitation".
Mrs Taylor said: "Where are Lisa's rights? She hasn't got a life anymore. He took it away from her.
"I don't think he should be employed. Let him sweep the streets somewhere, but not in a hospital."
Taunton and Somerset NHS Foundation Trust refused to comment further, saying it would not discuss a private, internal matter.