St George medieval ring sold for £7,000 at auction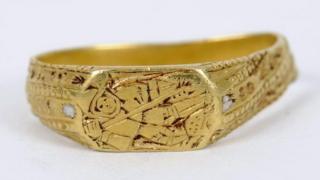 A 600-year-old medieval gold ring depicting St George has sold for £7,000 at auction.
The jewellery, which dates from the early 15th to the late 16th Century, was found in a field in North Somerset.
Auctioneer John Kelly said it was a relic of a period when the "cult" of St George took off and he began to replace Edmund as the patron saint of England.
The age of the ring was verified by British Museum experts prior to the sale at Greenslade Taylor Hunt.
Speaking before the sale Mr Kelly, from the Taunton-based firm, said the lot would be "quite exciting" for potential buyers with an interest in the period.
"It's going to appeal to the academic crowd, be it collectors or dealers," he said.
"It's not going to be for someone to wear out on Saturday night".