'Yarn bombers' decorate Yeovil churchyard with knitting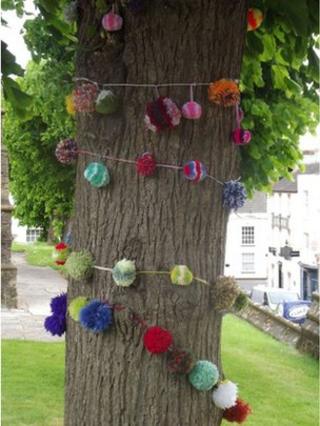 A churchyard is Yeovil has been "yarn-bombed" by a group of volunteers and district council staff.
Trees, benches, lamp posts, and fencing at St John's churchyard have been covered by the work as part of this year's Yeovil in Bloom initiative.
The council wants residents to add to the display throughout the year.
Yarn bombing, also known as guerrilla knitting, is a type of street art featuring knitted or crocheted items as well as pom-poms.
Councillor David Recardo, chairman of Yeovil in Bloom, said: "The church grounds look wonderful with the addition of the colour.
"Our thanks go to the ladies [from Knit and Knatter] doing the knitting because without [them] the project could not happen."
The street art, which is environmentally friendly, will stay up for as long as possible over the summer, Mr Recardo added.
Yeovil won gold in last year's South West in Bloom competition for the sixth time, and eleven neighbourhood awards in the Britain in Bloom contest.
The Yeovil in Bloom initiative is managed and funded by Yeovil Town Council, alongside South Somerset District Council.