Yeovil Town's Huish Park revamp plans submitted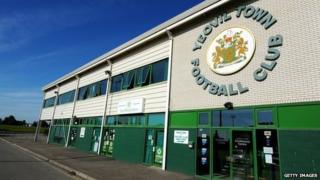 Yeovil Town Football Club has submitted a new application for plans to develop Huish Park and the land around it.
A previous proposal submitted to South Somerset District Council was withdrawn last year.
Part of the previous application for a new superstore sparked concerns over traffic and loss of green space.
A club spokesman said modifications to the plans have been made after discussions with local residents, businesses and football supporters.
The outline planning application includes proposals to redevelop the stadium and for new retail and residential units, a hotel, a sport and community hall, a sports injury clinic and a coffee shop.
'Big step forward'
Planning application agent David Bell said: "The focus is still very much on improving the spectator experience on and off the field and minimising any impact on the local area."
Club chairman John Fry said: "This is an absolutely vital part of our strategy to take the club forward.
"We feel that the new application is a big step forward and is of enormous importance to the town, district and club.
"It is crucial that we guarantee the longer-term financial future and stability of the club.
"This application proposes valuable amenities for both the football club and the community."
Yeovil Town were relegated to League Two from League One at the end of last season.