Adult safeguarding cases in Somerset rise by more than 75%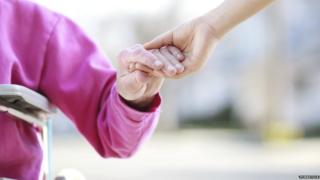 Adult safeguarding investigations in Somerset have risen by more than 75% over the past three years.
Somerset County Council said in 2012-13, 676 cases met its threshold for investigation. In 2014-15 the figure was 1,189.
Adult safeguarding issues include any scenario where a person becomes vulnerable including neglect, physical, emotional or financial abuse.
The council said the number had risen because of an increase in referrals.
Kim Curry, director of adult services, said referrals could come from health and care professionals as well as members of the public.
"We've even had calls from people who work in local shops who are just worried because they haven't seen somebody... or they don't appear as well as they usually are," Ms Curry said.
"We're doing a lot of awareness-raising around adult safeguarding as people are starting to recognise some of the signs they're contacting us."
John Beer, from the charity Action on Elder Abuse, said he was not surprised with the increase.
He added: "We have far more elderly people living in the community and in care these days so there are issues for their vulnerability.
"Add on the financial situation where 'mum won't miss the money' and we're really hard up'.
"That sort of thing that clearly goes on."
Mr Beer added society seemed far more concern about abuse to children "where money was thrown at it" and "something must be done" whereas with elderly people there were cuts to personal social services and health budgets instead.