Repairs under way to Somerset's M5 Willow Man landmark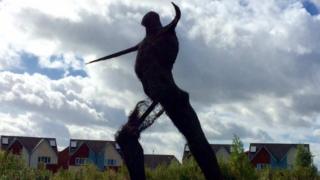 The artist who built the giant Willow Man near the M5 in Somerset is repairing the sculpture's thigh.
The artwork, near Bridgwater, has previously undergone repairs to its arm and head due to the natural decay of the black maul willow reeds.
Artist Serena de la Hey said: "The wear on the willow has been quite significant, it's 14 years old some of that willow."
The condition of the internal steel frame will also be checked.
'Intrinsic quality'
The artwork, commissioned by South West Arts in 2000, was originally meant to last three years.
It was burned down by vandals when it was built in 2001 but was re-built the same year.
The sculpture and surrounding moat was last repaired in 2012 at a cost of £18,000. A previous refurbishment in 2006 cost £21,000.
Ms de la Hey said: "If you didn't have a natural material to work with, then you would lose so much of the intrinsic quality that willow brings to a piece."
Sedgemoor District Council has said it will underwrite the £9,000 repair bill and hopes to recoup this by asking local businesses to contribute to the costs.
Leader of the council, Duncan McGinty, said: "We're hoping not to spend any money, just officer time, but we will be under-writing it until the funds come in."
He added that if the repairs were delayed, costs "would soar".
Once the repairs are complete, the council and Ms de la Hey aim to create a long-term plan to fund on-going maintenance and repairs.