Taunton street preacher's conviction quashed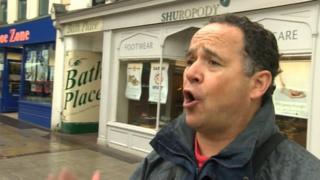 A Christian street preacher found guilty of delivering homophobic sermons has won an appeal against his conviction.
Michael Overd, 50, who preaches on the streets of Taunton, was found guilty of a public order offence in March.
The conviction was quashed by Judge David Ticehurst at Taunton Crown Court.
Following Friday's hearing, Mr Overd said the Crown Prosecution Service had failed to provide sufficient evidence to justify his conviction.
He said: "Today the court was faced with the farcical situation of a witness telling the judge that he couldn't even remember what I had said, but simply asserting that it was 'homophobic'.
"Rather than prizing freedom of expression and protecting it, the police and the prosecutors risk undermining it, because they've become paranoid about anyone who might possibly feel offended."
'Motivated by love'
He added that the motivation in all his preaching was to "share God's message of love and forgiveness through Jesus Christ".
"To do that I have to talk about the reality of life, including our sinfulness," he said.
Judge Ticehurst also awarded costs in favour of Mr Overd, who lives in Creech St Michael, Somerset, and is supported by the Christian Legal Centre (CLC).
Andrea Williams, chief executive of the CLC, said it was the "right decision" but it "should never have come to this".
"Mike Overd is motivated by love and simply wants to share the good news of Jesus Christ," she said.
"Public debate is becoming more superficial and fragile. People feel that certain things can't be said. That is dangerous.
"It prevents us from challenging ideas, beliefs and behaviour that need to be challenged. It may make some people feel more comfortable, but it doesn't make the country safer."