Somerset's heritage fingerpost signs 'not a priority'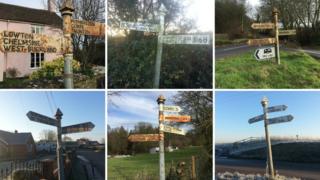 The restoration of rusty fingerpost signs in Somerset's rural areas is "not a priority," according to the county council.
Campaigners say the signs, which are made out of iron or wood, are deteriorating and are an "important part of the county's heritage".
Somerset County Council said it does value the signs but has to prioritise safety and statutory signs first.
There are 1,715 fingerposts in Somerset - the majority erected in the 1930s.
Wookey parish councillor Brian Livings said: "These signs exist on almost every junction you come to and, whilst I appreciate we have sat-nav, these signs are an important part of our heritage."
However, county councillor David Fothergill said: " We have a budget to maintain all our highway signs which is £175,000 per year.
"I love the fingerposts... they are a part of our heritage but it's becoming more and more difficult to find the money to pay for such a style."
Social media reaction on BBC Somerset
Tina-Marie Webber said: "They are definitely needed. Technology can be unreliable at times. Plus they are part rural Somerset"
Steve Wallbank said: "I don't have sat-nav. Finger posts work all the time, don't rely on batteries, or other electronics."
David Briggs thinks fingerposts are "brilliant when you come to the end of a country road and want that reassurance your on the right way. Plus they are just scenic and part of Somerset's character".
The county council will pay to repair a fingerpost sign if it falls over or breaks, but it will not do routine maintenance or repainting.
It has offered to help parish councils and community organisations apply for grants to raise the money for the work.