Yeovil District Hospital: Rooftop ward opens to boost capacity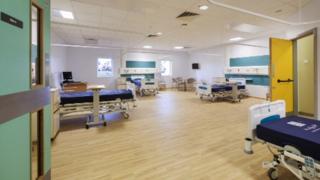 A "ready-made" 24-bed ward that was lifted onto the roof of a hospital in Somerset has opened for business.
Yeovil District Hospital was put on "black alert" last year when it was overwhelmed by demand, which it says has been rising by 5% year-on-year.
The ward enables treatment plans to be put in place for patients who suffered the likes of a stroke or have chest infections, before they are moved.
Senior nurse Wendy Grey said the beds were "desperately needed".
The hospital still had several more months of high demand "before things start to calm down".
"This will give us the capacity for future years so we can help get the flow of patients through the hospital right and stop us having to open areas that really aren't designated to hold patients in," Ms Grey said.
The ward - separated into 16 individual modules - was hoisted onto the roof of the outpatients' department before Christmas and have taken 10 weeks to be fitted out.
Hospital director Jonathan Higman said the trust realised it needed extra capacity "to remain sustainable".
"About this time last year the board decided we needed to do something about it," he said.
"It's been a massive challenge - we've produced this with a quickest build for a unit like this so far.
"Staff and builders have been here 24/7 and worked phenomenally hard."