Strawberry Line cycle route water mains plan 'shabby'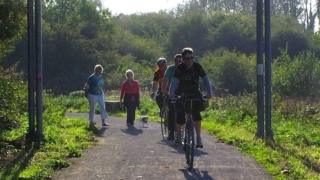 A plan to dig-up part of a cycle route in Somerset for a £27m water mains upgrade has been dubbed "pretty shabby" by a cycling group.
Two sections of the Strawberry Line route will be closed while Bristol Water lays a new pipe.
Richard Jones of the Strawberry Line Society claimed the firm was "getting away with as little as possible" when it reconstructs sections it has dug up.
Mike Smith from Bristol Water said it will improve the line where it can.
"If there are any areas which were draining poorly we will rectify and, on top of that, we are going to enhance the Strawberry Line through the tunnel and put in some positive lighting," said Mr Smith.
The project to install a new pipe between Barrow Gurney and Cheddar is due to start in late summer 2016 and be completed by March 2018.
The cycle path, which runs on a former railway line between Yatton and Axbridge, will be closed through a tunnel south of Winscombe.
Diversions will also be in place around part of the reservoir near to Cheddar.