Mysterious etching appears in rural Somerset church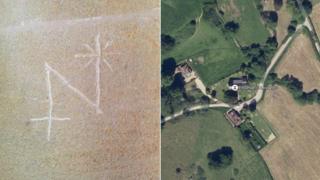 A church has appealed for help to determine whether a mysterious etching on its walls is a satanic symbol or simply child's play.
It is not known when the inscription was made but the church warden at St Leonard's in Pitcombe, Somerset, only spotted it recently.
"It is rather unattractive and not something you would wish to find in a listed church," said Charles Brook.
The Diocese of Bath and Wells tweeted a picture, in case anyone recognised it.
'Rural setting'
"I wondered if it was some sort of satanic symbol, or whatever, which is why we asked the Diocesan people if they had any thoughts about it. And the answer is 'no they don't'," added Mr Brook
"It's odd because the church actually isn't open very often because it's in a very isolated rural setting."
The two-inch long etching was found on the wall behind the door of the main entrance to the church.
St Leonard's opens for Sunday services throughout the year and on Saturdays between April and October.
Pitcombe is situated between the towns of Castle Cary and Bruton and has some 300 residents, according to the Parish Council.