NHS pilot to reward Yeovil Hospital for not admitting patients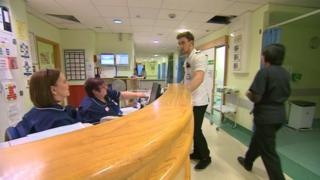 An idea to "reward" hospitals for not admitting patients is being piloted at Yeovil Hospital in Somerset.
Incentive payments will be paid where "preventable admissions" are reduced, or different trusts work together well, or patient services are improved.
It is part of an NHS "Test and Learn" pilot focusing on care of patients with multiple, long-term health problems.
Somerset Clinical Commissioning Group (CCG) hopes to roll out the pilot from April next year.
It said its health and social care system "must change" and "incentive payments" would encourage innovative ways of working.
Health problems such as diabetes, chronic heart and lung disease and cancer are the main focus of the new way of funding, which the group has called "outcomes-based commissioning".
The group estimated that 4% of Somerset's population living with long-term health problems - about 25,000 people - "make use of some 50% of the Somerset CCG's £750m annual budget".
Dr Matthew Dolman, chairman of the group, said: "We know we must change the existing models of care and encourage individuals and communities to adopt healthier lifestyles and be better at caring for themselves.
"Somerset Together will change the incentives for all health and care organisations, encouraging them to work ever closer together to improve outcomes, quality and achieve the savings required to be financially sustainable."
Last week, Yeovil Hospital declared its third "black alert" of the winter with 80 operations cancelled in a fortnight due to "unprecedented pressure".
The 345-bed hospital serves a population of about 185,000 - largely in south Somerset, North and West Dorset and parts of Mendip.