Somerset farmer's frustration over 'crippling' TB rules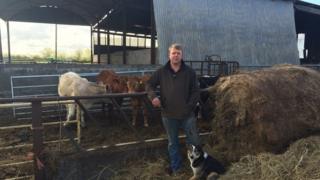 Government restrictions on herds which test positive for bovine TB are "crippling the beef industry", a Somerset farmer claims.
Latest Defra figures from January show 262 herds in Somerset which had tested positive were not yet officially free from TB. There are 2,497 in total.
TB restrictions stop the movement of cattle so farmers cannot take them to market or buy new livestock.
Defra has said it needs to take strong action as England has high rates of TB.
A spokesman said: "England has the highest incidence of TB in Europe and that is why we are taking strong action to deliver our 25-year strategy to eradicate the disease and protect the future of our dairy and beef industries.
"Our approach of dealing with the disease in cattle and wildlife has worked overseas and is supported by the Government and Defra chief scientists as well as leading vets."
Blood test call
Mr Hall, who farms at Fordgate near Bridgwater, said: "It's crippling the beef industry and lot of people are really struggling with this situation."
The farmer has his own beef herd and also had a contract for rearing calves for a supplier.
One of the supplier's calves tested positive for TB on 1 December, which means his farm had to go into lockdown. It is now due to re-open in mid-May.
"All of a sudden to lose the ability to send your cattle to market is basically [financially] crippling."
Mr Hall is now calling for blood tests for TB instead of the skin testing currently used.
"There was only one calf with an issue and they also had another test as well where all those calves were clean.
"That shows the TB hadn't spread through to the rest of the calf-rearing herd."
The National Farmers' Union says restrictions "should be risk based and proportional in terms of cost/benefit" and "we must ensure that farmers maintain an ability to trade".