Academies plan attacked in Conservative Somerset County Council letter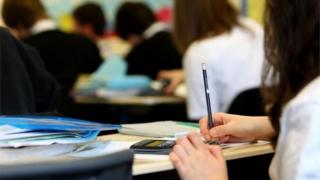 A leaked letter from the Conservative-led Somerset County Council says it "deplores" government plans to turn all state schools into academies.
Councillor Frances Nicholson, who is responsible for children and families, sent the letter to the Secretary of State for Education, Nicky Morgan.
She wrote: "There is no evidence that the structural change of academisation improves outcomes for children."
The BBC has asked the government to comment but it has not yet responded.
Under draft government plans, all state schools in England will have to leave the oversight of councils by 2022.
'Hard won gains'
Somerset County Council is a member of the County Councils Network, which had previously cited concerns about the academies plan.
Speaking about her letter, Ms Nicholson, who is responsible for education, said: "Anything that I say on behalf of the county council must be strong.
"This is a government white paper - they want a reaction, they need to know what we think, so we're telling them."
The letter says that 27% of schools in Somerset are academies but many are "not yet back to pre-academy performance even after three years of academy status".
It also states that 2015 improvements are due to local authority, rather than central government, funding.
Under the draft plans, the role of overseeing standards will fall entirely to eight appointed senior civil servants called regional schools commissioners.
A new national funding formula will mean money will go directly from central government to schools, rather than priorities being set locally.
What does it mean to be an academy school?
Ms Nicholson also cites concerns over Multi Academy Trusts (MATs) being overseen by "unelected and remote civil servants".
Two failing sponsors in the county are cited as examples of where there was "little intervention from the Regional Schools Commissioner".
She adds: "We do not have confidence that MATS will be rigorously and robustly held to account for their performance.
"We are already seeing failing MATs passing the schools they have failed on to other MATs."
The letter ends with a description of the academy plan as a "structural, expensive and unnecessary change".