April Reeves memorial garden unveiled by family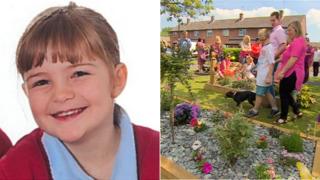 The family of a seven-year-old girl who was killed while riding her bike on an A-road in North Somerset have unveiled a new community garden in her memory.
April Reeves was cycling with her mum and brother when she was hit on the A371 at Locking in May last year.
There have since been calls to reduce the speed limit on the road - something campaigners are still bidding for.
North Somerset Council said it had spent £263,000 improving footpaths and crossing points since April's death.
Garry Reeves, April's father, said he was feeling overwhelmed by the turnout for the unveiling of the garden.
"The amount of people who have helped make this happen has been fantastic," he said.
However he added it had been a "difficult and emotional" year.
"Every day you get up and put a brave face on but inside you're really hurting," he said.
"We've got a little lad to look after, we've now got a puppy as well - that's what keeps us going. We've got each other and the community so that's been really helpful."