Level crossing collision narrowly avoided at Dunster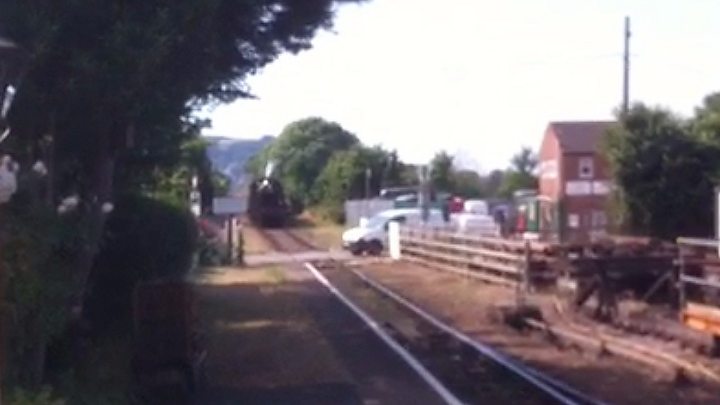 An investigation has been launched after a van almost collided with a steam train at a level crossing.
The motorist pulled onto the crossing in Dunster, Somerset, but had to quickly reverse to avoid the train.
The moment was caught on camera by Barrie Smallcalder who was waiting for the 16:30 BST service on Tuesday.
Line operators West Somerset Railway said: "We will be speaking to local users of that crossing reminding them to take care."
The train driver spotted the white van on his approach to the station and blew his whistle to alert the motorist.
Mr Smallcalder said: "All the station staff were a bit alarmed. The wheels of the van were almost on the rails before the driver reversed back.
"The train driver slowed the engine right down and I was able to get on the train and carry on as usual."
A West Somerset Railway spokesman said: "At Dunster West, any users must take care when crossing to ensure there are no trains in the vicinity.
"We will be carrying out our own internal investigation.
"The level crossing order for that location, with give way signs, requires a 5mph (8kmph) speed restriction for trains and locomotives having to sound whistles or horns on approach."
The railway has several level crossings along its 22 miles (35km) route.