Father and son's '£65,000 whale vomit' is worthless fat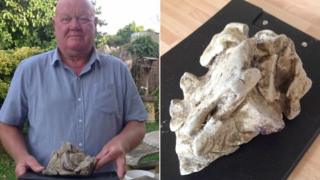 A father and son who tried to sell a piece of "whale vomit" they found on a beach for £65,000 have been told it is actually a worthless lump of fat.
Alan Derrick and son Tom found a rock they believed to be ambergris on a beach near Weston-super-Mare.
Used in perfume manufacture, the wax-like rock, which smells like rotting fish, is very valuable.
But lab tests proved negative, leaving Mr Derrick, who had put the item on eBay, "disappointed and very sad"
"It smelled like it, looked like it, the colour was right and the aroma was right," said Mr Derrick.
Despite being thwarted by boffins, the 67-year-old would-be vomit pedlar claimed he was taking the outcome in his stride.
"I kept an open mind about it all anyway. I wasn't going to get too excited until the money was in the bank.
"I'm sad but it's going in the deep fat fryer and I've had a whale of a time," he added.