Bath group hopes to restore rare Dutch barrel organ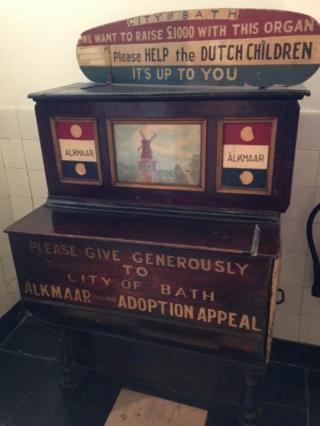 Efforts are being made to restore a rare barrel organ which was wheeled around Bath 70 years ago to raise money for Dutch famine victims.
The musical instrument is a type of piano and is normally displayed at Alkmaar Town Hall in Holland.
It was used in 1945 to raise funds to help children in the Netherlands in the aftermath of World War Two.
The Bath-Alkmaar Twinning Association wants to restore it so its music can be saved on its online archive.
'Bit surprised'
Chris Davies from the association said the fundraising began after a civic party from Bath went to Holland and saw the famine victims.
The appeal was a huge success in Bath where concerts, chess tournaments and dances were all held.
The local rotary association bought the barrel organ and wheeled it around Bath.
"Then they took round some of the surrounding towns, in Trowbridge, Melksham and other towns.
"In all they raised £5,000 - which is the equivalent [today] of £250,000 just for Alkmaar.
"The people of Alkmaar were a little bit surprised, and the organ now sits in their town hall," added Mr Davies.
The hope is to recreate the tour 70 years ago as part of the twinning association's 70th anniversary.