More than 700 Bath Half runners left without medals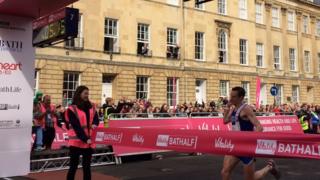 The number of runners left without medals at the Bath half marathon is nearly three times as high as first estimated, organisers have said.
Bath Half said more than 700 runners did not receive medals, and explained the shortfall was because it did not expect so many to finish.
Race director Andrew Taylor apologised and said he hoped it would not affect the finishers' "huge accomplishment".
Sunday's race was won by UK athlete Ben Fish with a time of 01:05:16.
Mr Taylor said: "We fully appreciate that receiving a finisher's medal and T-shirt is a significant recognition of achievement, particularly important for the last group of runners.
"Our initial estimate yesterday of a shortfall of 250 was based on 12,748 runners starting the race, and 12,500 medals and T-shirts ordered.
"Our team recorded the race numbers of all runners who didn't get a medal and T-shirt, and from reviewing that information it appears the shortfall was nearer 700."
'Very demoralising'
Following the race, some runners took to Twitter to vent their disappointment.
One runner tweeted: "How do you run out of medals? - were u not expecting this many people?! (Surely you knew how many entered!!)"
Mr Jones, wrote: "Not enough medals for the finishers - shame on you."
Belinda West Gallery tweeted: "bath half marathon Appalled that you have run out of medals. Very demoralising."
Those without a medal are urged to fill in a form and their medal and T-shirt will be sent to them.
A statement on the event website said: "We're really sorry for any disappointment that this causes and hope this hasn't detracted from your enjoyment of the day."