Reprieve for Taunton hospital skin clinic facing closure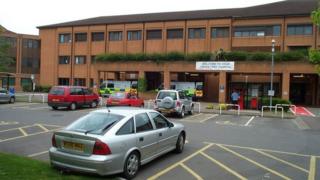 A skin clinic facing closure due to a shortage of dermatologists will remain open after a partnership deal was struck with a teaching hospital.
The move will see the department at Taunton's Musgrove Park Hospital share doctors with Bristol Royal Infirmary.
Patients with skin conditions will still receive treatment at Musgrove for a year, but new patients will have to travel to Bristol or Exeter.
It is hoped the plan will attract new recruits to fill vacancies in Taunton.
Paul Courtney, of Somerset Clinical Commissioning Group, described a "chronic shortage" of dermatologists nationwide.
However, he said a "good resolution" has been found in Taunton.
"We're going to see dermatologists recruited and provided by University Hospitals Bristol doing clinics at Musgrove Park Hospital," he said.
"We think it's going to reinstate the service to a county level."
He added the new partnership will be reviewed on a "constant basis" and said "we need to know that patients are happy with the service they are receiving".