Somerset A358 dual carriageway plans revealed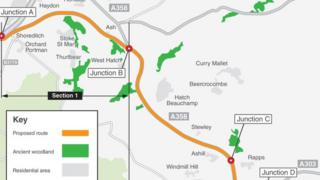 "Long overdue" plans to turn a busy Somerset trunk road into a dual carriageway have been announced.
Chris Grayling MP said the A358 between Taunton and Southfields will be made into a dual carriageway, as part of £15bn of road improvements nationally.
Local councils have pushed for the road upgrade for several years but have blamed central government cuts for delays in the plans.
A public consultation on the proposals runs until 20 May.
'Key route'
The A358, which links the A303 to the M5, is used by thousands of commuters daily, but is prone to rush-hour jams.
The new scheme includes upgrading the Southfields to West Hatch road, and building a new carriageway between West Hatch and the M5, south of Taunton.
In 2012, over 600 businesses took part in a council survey supporting the dualling of the A358 and the A303 Ilminster bypass, which is partially dualled.
Transport secretary Mr Grayling said a dual carriageway would boost tourism, and a new junction on the M5 would "help support major development opportunities south of Taunton".
"The A358 is a key route between the South West and London and provides a vital link to Somerset communities," he said.
'Safe and reliable'
"The upgraded route is long overdue, but we are now taking action to cut congestion on the A358 to give motorists quicker, safer and more reliable journeys."
The plans are part of an overall upgrade of the A303 at Stonehenge, Wiltshire and between Sparkford and Ilchester in Somerset.
Road building is due to start in 2020.