Work begins at Bath Spa station ahead of new longer trains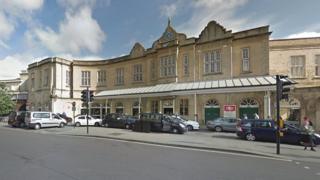 Modernisation work has begun at Bath Spa station in preparation for the new longer trains, due to come into service later this year.
The work, being carried out over the next two weeks, includes widening the platforms within the listed building and altering the track layout.
As a result, there will be a reduced service running through Bath during the week and no trains at the weekends.
Replacement buses are being put on over the weekends and bank holidays.
Julian Burnell, from Network Rail, said engineers would be "working around the clock" right up until 23 April to modernise the station.
"We're going to be changing the layout of the track and widening the platforms, this is because the new trains are slightly longer than the trains they are going to be replacing," he said.
"This work also means that when the electrification comes to Bath, we won't have to cut into the station's canopies to put the overhead lines in to the station - which is important because much of the station at Bath is a listed building and we have to be very, very careful."
Passengers are being advised to check services before travelling.