North Somerset parking crackdown: 700 fines issued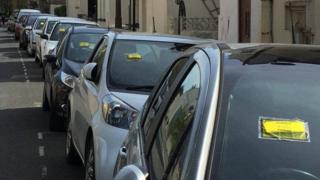 More than 700 parking tickets were handed out by a council in the first week it took control of parking enforcement from the police.
North Somerset Council said the majority of tickets were handed out in Weston-super-Mare due to a variety of offences.
Parking services manager Alan Taylor said: "We are having people stopping us in the street and thanking us."
The council said the revenue will be reinvested into roads and transport.
Mr Taylor added: "We've had people asking if we can do their road.
"It's been more positive than we could have imagined."
Mr Taylor said 564 tickets in Weston and 91 in Clevedon accounted for most of the 704 issued since the council took control of parking regulations on Monday, 3 April.
Hotspots
Town centre manager Steve Townsend said: "One of the main problems was loading bays not being accessible to delivery trucks.
"Also, we had some hotspots in the town centre where cars couldn't egress along the bigger car parks, the shopping centre for example, and that led to big tailbacks.
"In general, I think the parking enforcement has made the town centre safer."
Most comments on the BBC Radio Bristol Facebook page were supportive of the council's actions.
But Janet Cleverley wrote: "I wonder if any of you would be so flippant if it was you who got ticketed !!!"