Oldmixon hit-and-run: Speed limit cut and speed bump plea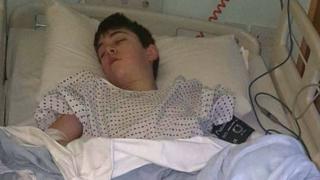 A petition has been launched to reduce the speed limit in an area where a 14-year-old boy was injured in a hit-and-run collision.
Mitchell Ogston was on his bike outside his family home in the Oldmixon area of Weston-super-Mare on 7 March when a driver hit him and drove away.
Neighbour Linda Dalrymple said she wanted the speed limit cut from 30mph to 20mph and speed bumps installed.
Avon and Somerset Police said investigations are continuing.
North Somerset Council said it is currently waiting for a police report on the accident, which will be added to its database to record all injury accidents.
It said: "The database is used to direct our casualty reduction programme, which includes highway engineering, enforcement (in conjunction with the police) and road safety education, training and publicity.