Royal Bath and West Show poultry event cancelled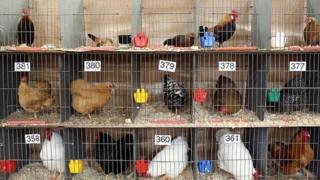 Poultry and waterfowl showing classes at the Royal Bath and West Show have been cancelled over fears of avian flu.
Defra lifted the a ban on Monday but members said they were still nervous putting birds together.
Head of shows Alan Lyons said: "We have got responsibility for the whole poultry industry and pure breed exhibitors."
In 2016, some 1,200 birds were removed from the show due to a suspected infectious bronchitis outbreak.
The Royal Bath and West Show is the largest agricultural event in the West of England, attracting 150,000 visitors a year over four days.
The event in Shepton Mallet, Somerset, runs from 31 May to 3 June.