Bath's Royal Crescent lays foundation stone to mark 250th anniversary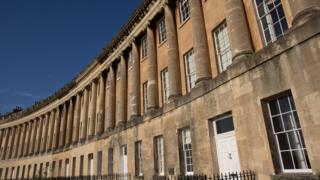 The Royal Crescent in Bath has marked its 250th anniversary by re-enacting the laying of its foundation stone.
In May 1767, the very first stone was laid for No. 1 Royal Crescent which became the flagship and architectural model for others in the crescent.
Dr Amy Frost, from Bath Preservation Trust, said the "iconic building" inspired a "whole series of crescents" to be built across the country.
Actors in period costume recreated the moment the first stone was laid.
The Royal Crescent is made up of 30 houses built in a 200m (656ft) giant sweeping arc.
It was built to conform to the designs of architect John Wood between 1767 and 1774 - although no two houses in the crescent are the same.
Since then it has become "the image" of 18th Century England and "one of the most important buildings" in the country, according to Ms Frost.
"After the Royal Crescent in Bath, we get a whole series of crescents in the city and in other places. They appear in London, in Derbyshire, and it becomes a very fashionable form," she said.
"They were unlike any other buildings around them, so of course the really fashionable wanted a house in the Royal Crescent."
The re-enactment is part of a city-wide project to celebrate the Royal Crescent's 250th anniversary, which has been funded by a £69,200 grant from the Heritage Lottery Fund.