Taunton race attack good Samaritan assaulted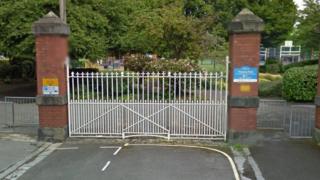 A man suffered a "violent and disturbing attack" as he defended two women who were being racially abused.
The man, 20, was left with a broken jaw after being "repeatedly punched in the face" by members of a large group of young people in Victoria Park, Taunton.
Police are appealing for any mobile phone footage of the attack, which happened at about 17:00 BST on Friday.
Two boys, 16, were arrested then bailed. Four others were later arrested on suspicion of disorder.
"This was a violent and disturbing attack in which the victim and his friends were threatened and intimidated by a large group of people," a force spokesman said.
"There can never be any excuse for hate crime or violence in any shape or form and this criminality will not be tolerated."