Bath man jailed for forging 'harassment' letters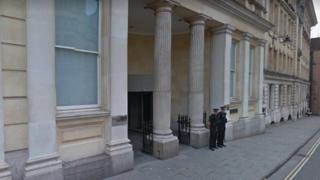 A man who tried to frame a neighbour for harassment has been jailed for 15 months.
Mark Webb, of Oldfield Park, Bath forged letters to himself purporting to be from Frances Avis to add credibility to allegations he had made against her.
Bristol Crown Court heard Ms Avis was later found guilty of harassment and given a six-month prison sentence. But she won an appeal and was not jailed.
Webb pleaded guilty to attempting to pervert the course of justice.
The court was told there had been a "difficult history" between Webb and Ms Avis and, in 2015, he accused her of harassment.
'Wholesale attack'
She was charged and, in February 2016 with the forged letters used as evidence against her, convicted by magistrates and sentenced to prison.
She immediately lodged an appeal, won and was not jailed.
Her conviction was later quashed when police questioned 42-year-old Webb's credibility as a witness.
Suspicions about the author of the letters were raised when a police officer noticed a similarity in the handwriting on a criminal compensation form Webb had completed.
Prosecutor Sam Jones told the court the effect upon Ms Avis "has been profound" and one of her bail conditions banned her from her own home.
Judge William Hart described Webb's conduct as "calculated, deliberate and persistent", and said it was "a wholesale attack upon the criminal justice system".
Of Ms Avis, he said "there is no stain on her character".