Fresh appeal over Exmoor body mystery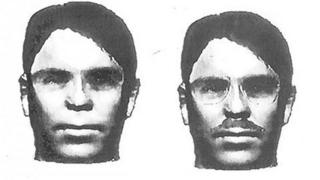 Police are hoping to identify a man whose remains were found dumped in bags on Exmoor more than 15 years ago.
The decomposed body was found by a park ranger on moorland off Halse Lane near Winsford, Somerset, in March 2002.
Despite national appeals, including a TV reconstruction in 2002, police have been unable to identify the man or discover how he died.
Avon and Somerset Police is hoping an appeal on BBC Crimewatch Roadshow will lead to a vital breakthrough.
Detectives said the man, who was in his mid-20s to mid-30s, may have been from North Africa or the Asian sub-continent.
He is also thought to have only lived in the UK for a few years before his death and may have spent time in southern England.
"There was evidence to suggest the man suffered injuries consistent with a violent assault before his death, sometime between late 1999 and 2000," a force spokesman said.
'Gruesome deposition'
"It is thought the body may have been kept elsewhere for a significant period of time before being buried on Exmoor at some point after May 2001."
Despite "exhaustive inquiries over the years" and a full DNA profile, Det Sgt Pete Frake said the identity of the man was "frustratingly" still unknown.
"The remains of the man were wrapped in plastic bags and bedding and alongside him were a number of items including underwear and a distinctive gold pendant featuring a verse from the Koran," he said.
"We need to let his family know what happened to him and ensure the person or people involved in his death and the gruesome deposition of his body on Exmoor are brought to justice."