East Somerset Railway brings 1952 locomotive back into service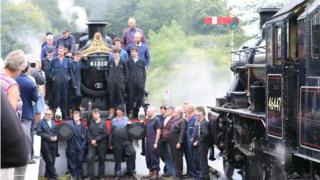 A steam engine, brought back to life by volunteers at the East Somerset Railway, has returned to service after a 52-year absence from the railways.
A ceremony was held at Cranmore to mark the return of engine number 41313, a class 2 tank locomotive.
Chairman Dick Masters said: "It ran mostly in the south of the country, anywhere between Brighton and Bude. It's vey much a local engine."
The engine was built in 1952 in Crewe. It has not been in use since 1965.
'Very complex'
The locomotive's first journey since being restored was from Cranmore station to Mendip Vale on Saturday morning.
The engine was rescued in 1975 from a scrapyard in Barry by the Ivatt Locomotive Trust.
It was later bought by the Isle of Wight Steam Railway and sent to East Somerset Railway in 2015 for repair.
"The very important things like the boiler, which is a very large, very complex piece of equipment, was in incredibly good condition and we didn't have to do that much work on the boiler," said Mr Masters.
The engine will stay in Somerset over the summer for East Somerset Railway's normal passenger services.