Hundreds of gull chicks fall from 'baking roofs' in heat wave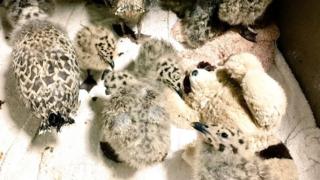 Hundreds of gull chicks are being cared for by a Somerset wildlife centre after falling off the "baking roofs" of houses during the recent heat wave.
Secret World, near Highbridge, said it had taken in up to 200 gull chicks, which it described as a "record intake of orphans".
They were mainly rescued from coastal towns including Weston-super-Mare, Burnham-on-Sea and Bridgwater.
The charity is now appealing for "fishy cat food" to feed its "glut" of gulls.
CEO David Foulds said: "Urban gulls nest on roofs and when they get too hot, the chicks do a bit of a dance and fall off and can't get back."
He said the birds - mainly herring gulls - were "growing steadily" and should be ready for release in a "month or two".
"We do normally get busy in hot weather but this year it's been madness - it was just gulls everywhere.
"The heat wave brought them down off the baking roofs and now we've got a glut of gulls.
"We're getting through lots and lots of cat food so we're appealing for any sort of fish-based cat food."
The gull chicks - once they have fledged - will be released back into the areas they were found.