Hospital beds in Minehead re-open after recruitment drive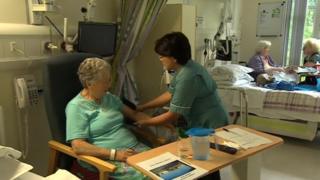 A Somerset hospital has reopened its inpatient beds after staff shortages forced it to close 10 beds temporarily.
Inpatients at Exmoor Ward at Minehead Community were moved to Williton Community Hospital in mid-December.
Andy Heron from Somerset Partnership said: "I am delighted we can now re-open the 10 hospital beds and bring our staff back to Minehead Community Hospital."
The trust targeted nursing students and advertised locally.
Somerset Partnership also holds "rolling recruitment days" throughout the year to ensure there is regular intake of nurses and nursing students coming into Somerset on work placements.
Matron Norma Coombes said: "The three that we have recruited have moved from up country and have actually relocated, so that's been really useful.
"The other lady we had, has come back from maternity leave and another who took unpaid leave to go travelling has returned as well, so we've had five new recruits."
Despite the re-opening, hospital managers say they cannot guarantee the ward will be immune from temporary closures.
Kathy Doran from Somerset Partnership NHS Trust said: "We cannot give any cast iron guarantees that we won't have a situation going forward, but this is one of our flagship hospitals.
"This is definitely a permanent opening of beds, it's not going to be temporary and we are robust as we can be at this present time.
"This is not one of the hospitals we would want to be shutting."
A dementia ward at the Summerlands hospital in Yeovil, is set to close on Wednesday because of ongoing difficulties in recruiting specialist staff.
In North Somerset, Weston General has closed its overnight A&E unit due to staff shortages.
Minehead Community Hospital opened in 2011 at a cost of £23m.