Somerset nursery told 'use donation bucket' to help fund places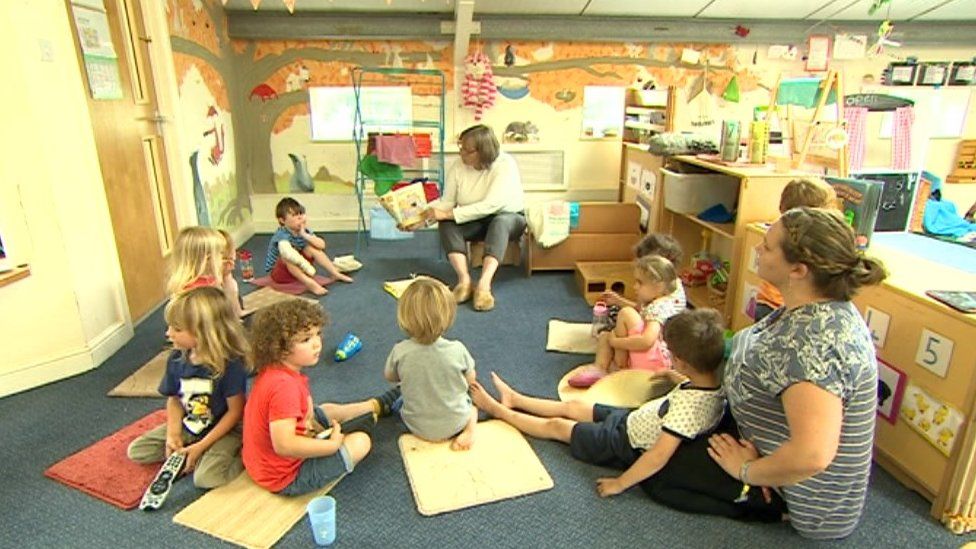 A nursery says it was advised by the government to use a donations bucket to help pay for a free childcare scheme.
Carousel Day Care in Middlezoy, Somerset, will close as it cannot afford to cover the cost of providing 30 hours-a-week of free childcare.
Owner Sue Gray said she was told by officials to be "more creative" by selling takeaway meals for parents or a bucket in reception for donations.
The government says its hourly funding rate is higher than the average cost.
From September, three and four year olds from families with working parents will be entitled to 30 hours free care per week. Carousel Day Care says this is not financially viable.
Ms Gray added: "I don't know how many solicitors you see where there's a donations bucket to keep them open.
"It's so sad that they think we can be told to do that when it's so wrong. You get what you pay for, if you want quality."
Ms Gray said the rules stated they were not allowed to charge a top-up for the extra free hours and she was already using her savings to fund the existing offer of 15 free hours a week.
"At 15 hours I lose £4,000 so at 30 hours I lose double that. It would close me within a term," she said.
Somerset County Council will pay £4.06 per child per hour for the 30-hour allowance. Carousel Day Care would need 14 children at that rate to break even but only has 12 places.
The Department of Education said it would not respond to an individual case but in a statement, minister for Children and Families Robert Goodwill said the government was investing £6bn every year by 2020 in childcare.
He added the rates were "far higher than the average hourly cost of providing childcare for three-and four-year-olds, which recent research has found to be £3.72".
Related Internet Links
The BBC is not responsible for the content of external sites.