Frome's improvement work starts amid concern over cost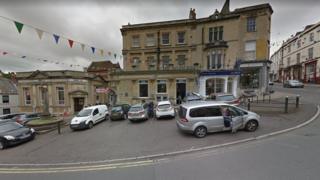 A £250,000 project is getting under way in Frome town centre to make it more pedestrian friendly.
The 16-week project will also involve restoring a fountain and creating new seating areas so events can be held.
Peter Wheelhouse from the town council said: "The purpose of this work really is to make the heart of the town safer, more attractive and pleasant."
But some traders are critical of the cost, the lack of consultation and time taken for the work to be completed.
'Free parking lost'
Stephen Thomas from Marchbank Jewellery said: "People won't want to sit next to nitrous oxide coming from the traffic.
"I think the money could have been better spent, but it's a forgone conclusion."
Owner of Inspiration on Cheap Street, Laura Exton, said: "When we went to a council meeting, it was put on at the very last minute.
"We were told it had been in consultation for seven years - most of us haven't been here for that long.
"And we've lost the free parking spaces that people want to see as part of the local community."
Bus shelters and traffic calming measures will be added in once this work is complete.
Mr Wheelhouse said there would be "real advantages for businesses in the town centre".