Somerset children's centre closures considered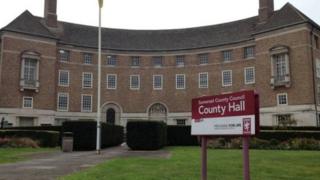 Three-quarters of the children's centres in Somerset are under threat of closure, the BBC understands.
An internal briefing paper for county councillors shows 30 out of the 40 children's centres could go after a reorganisation of the service.
Somerset County Council says it wants to create a service which provides the right support for families where it is needed the most
A consultation to allow people to have their say is planned for the autumn.
The council said: "The proposals will include a number of main centres offering a range of support for families with children of all ages, to work alongside other activities and services delivered in various community venues people's homes and online.
"They will also ensure the council provides sufficient access to early years provision across the county.
"More detail about the proposals and the consultation will be shared in the coming weeks."
Plan scrapped
In July, the new Conservative council leader, David Fothergill, said there would be a new consultation this autumn and that some centres could be used by schools and nurseries as classrooms in the future.
Leigh Redman, the Labour group leader and chair of the children's scrutiny committee on the council, said: "If evidence can be shown that a children's centre isn't being used then the first question I'd ask is 'how can we make this better?' rather than to close.
"Let's get these plans in the open so people can talk about them and be aware, so we can consult."
In 2013, the Conservative-led council consulted on the future of children's centres and came up with a proposal to "de-register" 18 of them, keeping 23.
The plan was scrapped following a public backlash with petitions and protests.
Children's centres are places where parents of typically pre-school children can go for help with things like breastfeeding, budgeting, making healthy choices for their family and postnatal depression.
Legally the centres have to be used for children but don't have to be used as children's centres.