Father and son find WW2 guns in river at Grey Lake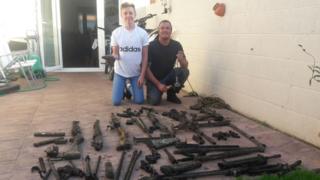 A father and son have found 30 World War Two gun parts while fishing with magnets in a river near their home.
The badly-rusted items were pulled from the water at Grey Lake, Kingsweston Sluice, near Street in Somerset.
Police divers scouring the river earlier also found a number of gun parts on the river bed.
Avon and Somerset Police said the latest find appeared to be part of the same cache - discovered in February 2015 - by a group of boys.
Then, and over two days, they dredged up some 80 weapons including pistols, rifles and a machine gun.
Experts who examined the 2015 find said some of the weapons dated from after World War Two and included a Czech Vz.25 submachine gun, a US M16 assault rifle, and a Belgian FN CAL.
Neil Hopkins, 43, from Bridgwater, said he had been out with his son Billy, who had described the find as "amazing".
The pair had been using a powerful magnet, which can lift 220kg, attached to a long rope, which is dropped into the water.
Mr Hopkins said he was not expecting to find any guns as the area had been dredged before in 2015.
"There was a history of weapons found here before," he said.
"[But] I don't know where they've come from, we're told it could be from a World War Two munitions dump."
A police spokesman said the parts possibly dated back some 50 or 60 years and might have originated from nearby weapon factories that were operating during World War Two.
"It is believed that this is the case this time and the weapons are to be examined by the [police] armourer prior to destruction."