Avalon Coaches stripped of licence after public inquiry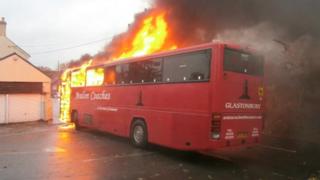 A coach company responsible for two school buses which caught fire has had its licence revoked.
From the end of 2017 Glastonbury-based Avalon Coaches in Somerset will no longer operate, following a public inquiry.
The South West Traffic Commissioner's decision came just weeks after Somerset County Council stripped the firm of its school buses contract.
Avalon Coaches has declined to comment.
In September the commissioner, Kevin Rooney, heard about a catalogue of failings by the company, including vehicles regularly failing safety inspections and being ordered off the road.
In his report, he said the latest investigation had found that eight out of 11 vehicles at the company were either "immediately dangerous or on their way to becoming dangerous".
"That is a horrific statistic and I have no hesitation in finding that vehicles have not been kept fit and serviceable," he said.
'Downward trajectory'
Mr Rooney said the firm's vehicle inspection facilities were "almost Dickensian" and too narrow to carry out work in effectively.
He added that safety standards appeared to show the operator was "on a downward trajectory".
His report referred to two services operated by the company which caught fire, in 2014 and earlier this year.
The 2014 fire started as a small flame in the dashboard because drivers had added wiring themselves to run a TV while they were awaiting pick-ups. The cause of the 2017 fire is not yet known.
In 2015, another bus operated by Avalon which was carrying a group of schoolchildren crashed on the M25 near London.
The driver of the coach, Gerald Huxtable, subsequently pleaded guilty to driving without due care and attention but blamed the weather conditions and poor visibility.
Two of the children were treated for shock, although there were no physical injuries.
Mr Rooney said the fact that there had been eight transport managers in seven years meant vehicle maintenance and whether drivers took regular breaks were not effectively managed.
Avalon Coaches must now wind down its business, with its licence revoked from 31 December.