Hundreds of cast iron signs on Exmoor to be restored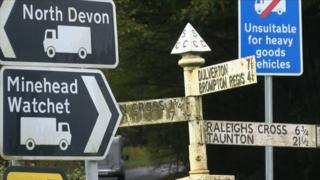 Hundreds of rusty cast iron signposts across Exmoor are to be refurbished as part of a two-year project.
The distinctive black and white signposts were kept in Somerset despite councils being advised to replace them with standardised signs in the 1960s.
A £75,000 lottery grant has been awarded to the Exmoor National Park Authority (ENPA) to refurbish the fingerposts and trace their history.
The ENPA said the signs are "a much-valued part of the Exmoor landscape".
There are 1,715 fingerposts in Somerset - the majority were erected in the 1930s.
Along with recording and refurbishing Exmoor's signs, the authority is also hoping they will reveal how routes across the moor evolved and why some tracks were preferred over others.
Dr Helen Blackman, from the Exmoor Society, said the "starting point is the history of individual posts".
"The kind of questions we would love answers to are: how long have they been there; do they and the crossroads they are positioned at have specific names," she said.
"Also, is there anything in particular that has happened to them, such as removal during the Second World War and later replacement?."
She added it was also interesting some towns and villages were clearly signposted, while others have "little to indicate their whereabouts".
"To some visitors it may seem odd that many signposts point to Watchet, now a relatively small town," she said.
"However, the signage reveals something of its previous significance as a port and a major paper manufacturer."
The ENPA and Exmoor Society are appealing for volunteers to help restore the signposts and trace their history.