Somerset company Nippy Bus sacks staff by internal memo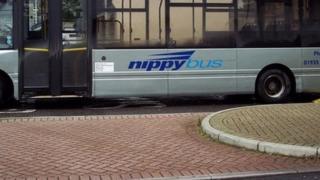 Staff at a bus company have been sacked after the boss told them in an internal memo he could not work with them "a moment longer".
Employees at Nippy Bus, which operated services across South Somerset, received a message to "consider themselves dismissed/redundant".
The company's customer website said it has ceased operating with immediate effect.
Managing director Sydney Hardy could not be contacted for comment.
Driver Steve Atkins told BBC Somerset that he was "very angry that it was done that way".
The internal message, which was sent over the weekend, said the company had "ceased operational activity with immediate effect" from Sunday.
It added: "I am quitting to pursue my dream of not having to work here.
There is a difference between giving up and knowing when you have had enough.
"I have had enough and realise I cannot work with you, the people I employ, a moment longer."
The memo also says that "the gates are now closed and will not open so you [staff] can stay in your scratchers Monday and have a lie in".
Somerset County Council says it is in talks with alternative bus operators to try and restore as many services as possible.