Turnip Prize: Entries for spoof art award announced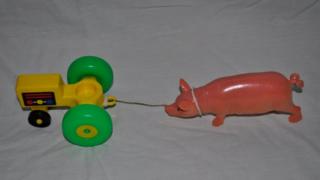 A toy pig being pulled by a tractor and a small golf club are among entries for a spoof art award that pokes fun at the Turner Prize.
Entitled Pulled Pork and Minnie Driver, they are among six finalists for the Turnip Prize, which has run for 18 years from a Somerset pub.
It is awarded to whoever creates what they consider to be rubbish art "using the least amount of effort possible".
Last year's winning entry was a black pole named Pole Dark.
Other entries this year include Fake Nudes - an unclothed Barbie and Ken, Northern Soul - a shoe with a compass on the bottom and Pant and Dec - a pair of pants with playing cards on top.
Organisers said they had had more than 100 entries this year - a record - but the standard was "still crap".
The presentation for this year's Turnip Prize will take place on Tuesday 5 December at The New Inn in Wedmore.