Bath University students in vice-chancellor pay protest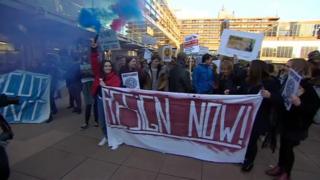 Hundreds of students have marched through the University of Bath protesting against the retirement arrangements of their vice-chancellor.
Prof Dame Glynis Breakwell made her resignation announcement on Wednesday after a row about her salary of £468,000.
She remains on full salary until formally leaving in February 2019.
The University of Bath said: "Today's protest adds to the university's record of valuing freedom of expression."
Slogans carried by the protesting students included: "Education not remuneration", "Bin the Glyn" and "Biscuits don't grow on trees", a reference to a reported expense claim made by Dame Glynis for a £2 pack of biscuits.
'Outrageous'
The protest was organised by final year politics student Clementine Boucher who said: "There hasn't been a demonstration at this campus since the 1980s which shows just how angry people are about this.
"We must ensure this never happens again. She has to resign without the golden handshake."
Another student added: "She doesn't deserve her paid sabbatical, she doesn't deserve her car loan to be paid off, she should be going, she should be ashamed."
Dame Glynis had been under sustained pressure over her salary, which made her the highest paid vice-chancellor in the UK.
Earlier, the University of Bath's Council agreed to take action on recommendations made in a report by the Higher Education Funding Council for England (HEFCE) into the rules around executive pay.
A university spokesperson said: "We are committed to promoting and encouraging free debate and enquiry, even when this can sometimes be unpopular, controversial or provocative."